Thread lifts, also known as "non-surgical facelifts", are a safe, simple, and effective alternative to conventional surgery that avoids cuts, scars, and general anaesthetic.
This article will discuss the procedure in more detail, covering treatable areas, the benefits of thread lifts, and much more!
The Thread Lift Procedure
It is important to establish what the treatment involves and what you can expect from the procedure.
Thread lifting is a technique that has been practised for many years to help soften wrinkles, raise drooping jowls and cheeks, tighten sagging eyebrows, and smooth the skin. One comparable treatment you may be more familiar with is the V-Soft lift, utilising the same principles as the threading technique, but has been modified to use a cannula in the placement of the threads, delivering a much safer option than traditional threading techniques, using needles.
Which areas can be treated?
There are a wide variety of areas treatable with the thread lifting technique, such as loose facial skin, downturned mouth, and smoker's lines, as well as:
Forehead/brow
Neck/jawline/jowls
Lowering of eyebrows
If you are experiencing any of the above-mentioned issues, threat lifting could be the perfect solution for you! Don't hesitate to contact our team of experts to discuss the procedure and start your aesthetic journey with Ruma Medispa.
How Does The Technique Work?
Threads are made from PDO; polydioxanone, an absorbable suture material used in surgery for over 30 years. Under local anaesthetic, a small entry point is made with a needle then the threads are inserted under the skin using a blunt cannula from 1 or 2 entry points.
Once the threads are in the correct position, they can be gently tightened to lift the skin and tissue where needed, with the entire procedure taking approximately 30 minutes, allowing you to be in and out of our clinic in a breeze.
Although the threads disappear completely over a year, it does provoke the body's "healing response" and leads to direct surges of collagen to the treated areas. This new collagen and elastin help improve the firmness of the skin, giving you a tighter and more youthful face and jawline.
Dr. Emily Stanworth explains more about thread lift treatment.
Benefits of PDO Thread Lifts
If you opt for Thread Lifts, you will receive multiple benefits once the procedure has been completed.
As mentioned, this treatment is also commonly referred to as a "non-surgical facelift", delivering outstanding results without the hassle of cuts, scars, and the need for general anaesthetic.
The main benefits you will receive when getting Thread Lifts include;
Produces more defined facial contours
Rejuvenating and lifting effect
Redefines facial features
Addresses sagging/loose skin
Are you interested in this procedure and the benefits that come with it? Get in touch with our team now to book an appointment.
The Risks of Threads Lifts
As with any procedure, regardless of surgical and non-surgical techniques, there are always potential risks that can occur with Thread Lifts, with the possibility of discomfort, bruising, infection, swelling, and rare skin pigmentary changes, as with all treatments involving breaking the skin.
The threads are inserted using a blunt cannula so deep important structures like blood vessels and facial nerves aren't normally at risk. However, there is still a small potential risk, as well as scarring, that may occur from the track of the thread.
Foreign body reactions/granulomas are also, unfortunately, risks that can occur with all types of injectable treatments. However, allergic reactions to the threads are extremely rare since the threads are not allergenic and are used in current surgery practice. Furthermore, there may be cases where the local or injected anaesthetic can cause an allergic reaction, which may require additional treatment, such as an antihistamine.
Perceived asymmetry
We put the same number of threads into each side of the face and do not aim to correct asymmetry unless specifically requested. Even so, existing natural asymmetry will likely remain.
Additional treatment
You should also bear in mind that further treatments with HA dermal fillers may be required to achieve the desired results.
Who Is Suitable For Thread Lift Treatment?
This treatment is unfortunately not appropriate for everyone.
The ideal candidate must have good skin quality, which is not too thin or too thick, working best for those wanting a natural lift around the mid-face, jawline, brows, marionette lines, and nasolabial folds.
We are also unable to treat those with the following conditions:
Active acne or skin infection at the sites of treatment, those prone to keloid scarring, auto-immune diseases including scleroderma, sarcoidosis, amyloidosis, etc, those on anti-coagulant medication, such as heparin, as well as, pregnancy, breastfeeding, or undergoing IVF, malignancy/chemotherapy, hepatitis B&C, HIV, history of bacterial endocarditis, existing system infection and body dysmorphia.
It is your responsibility to inform your practitioner if any of these apply to you and any other medical conditions you have, including the medications you are taking.
Alternatives to thread lifting
If you do fall into any of the above categories, that, unfortunately, means you may not be suitable for Thread Lifting, alternatives that you may consider:
Surgery,
Skin-tightening devices
Please speak to your practitioner to discuss any alternatives to this treatment.
What to expect after the treatment & Aftercare
To ensure the best results and to avoid any potential discomfort and risks that may occur, the aftercare process is essential. Migration of the thread can occur if post-op care is not followed correctly. It is important to avoid the sun for at least four weeks following the treatment.
Please follow the post-operative care carefully.
Listed below is what you can expect after your treatment:
Immediately after treatment, your face will feel tight – this feeling may last for a couple of weeks.
It is normal to experience some mild to moderate tenderness and achiness post procedure – please use paracetamol as directed. Please avoid ibuprofen and other anti-inflammatory medications for 2 weeks as controlled inflammation is necessary to initiate the new collagen formation process.
Mild to moderate swelling can be expected, which typically resolves after 1-2 weeks. Please note that post-operative swelling and the anaesthesia injection may cause temporary asymmetries in the face.
You may experience small zingy sensations in the areas treated, rest assured, this is normal and will subside after 4 weeks. Transient headaches can also occur following treatment – please use paracetamol as directed.
If bruising may develop, use arnica cream or tablets to reduce the duration of the bruise. Apply the cream with clean hands in an upwards sweeping motion.
Thread Lift Treatment by Dr. Emily Stanworth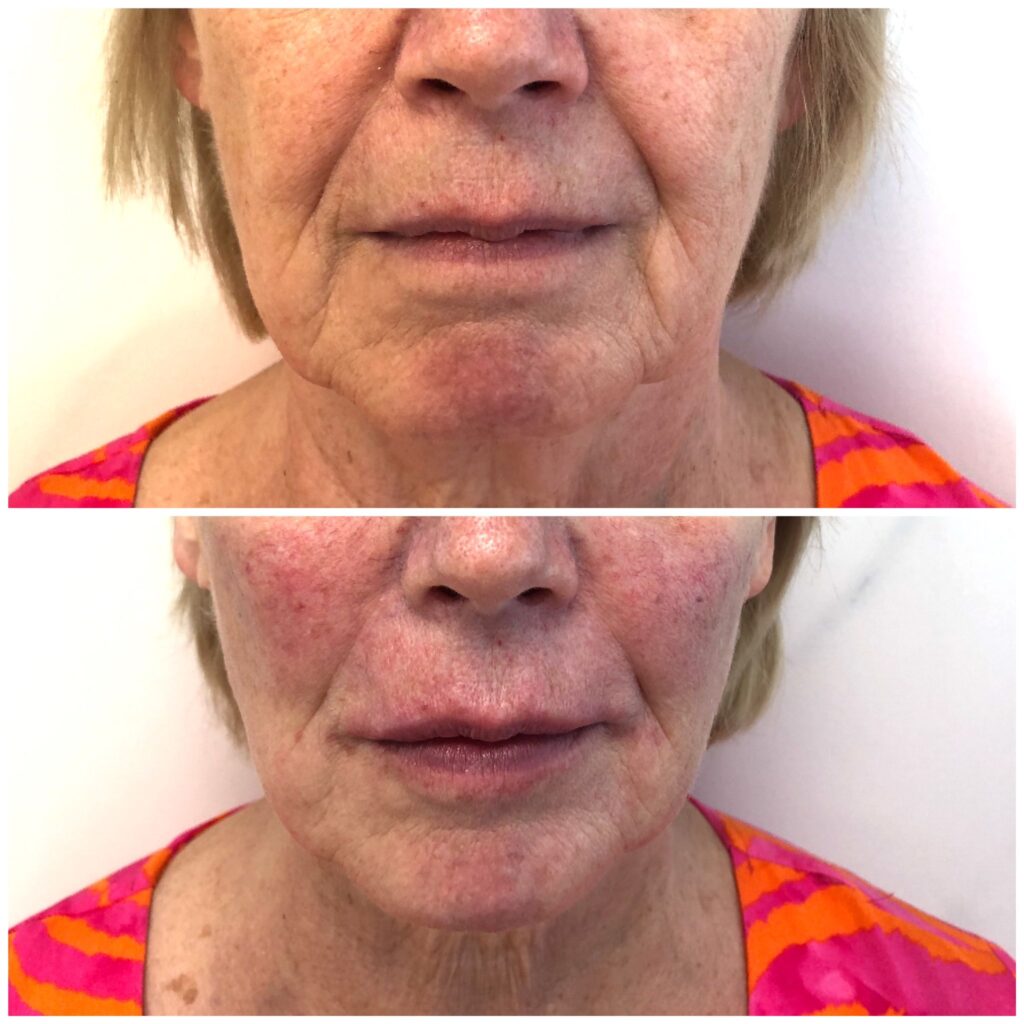 Upper face: 3 areas of wrinkle-relaxing injections to help soften the lines in the middle of the brow and crow's feet. This technique gently provides an eyebrow lift to open up the eye area creating a fresher appearance.
Mid Face: Required a combination approach of thread lifting and HA dermal fillers in the cheeks, tear troughs, and marionette lines to restore volume. Her orbital fat pad is such that this would be suited for surgical blepharoplasty however her under-eye bags were still improved with 0.5ml of HA dermal filler in the tear troughs. I also used 0.5ml of HA dermal filler in the lips to keep it super natural and soft but just a tad plumper.
Lower Face: The chin muscle (mentalis muscle) was overactive and created an orange peel effect as well as shortening the length of the chin. The neck muscle (platysma) muscle was also overactive which pulled down her lower face contributing to the jowling. I first relaxed both of these muscles using wrinkle-relaxing injections. Once this took effect, I sculpted the chin and jawline with HA dermal filler for a lovely streamlined feminine jawline with a much-improved profile.
If you are interested in facial thread lifts then please get in touch and book your consultation today!